15 October 2018
Dear Friends of Project Chacocente,
Warm greetings to all of you. The streets of Nicaragua are now largely quiet, though it is an uneasy peace by most accounts. The government of President Ortega remains firmly in control. Our students and teachers are back full-time, engaged in ourone mission – Education – and they are making up for lost time.
We asked teachers and parents what 3 months of school closure meant to them. Jose Luis Paiz, our teacher of Computación, said, "I missed my co-workers, my students, missed all my duties. Our work place is our second home. I learn so many things everyday at work, especially from my students." What did Jose Luis like best about getting back to school? "Being with my students and realizing that we continue with the education work. Feeling the unconditional support from my co-workers. Seeing the parents worrying about their children's education."
On returning to work, Rubenia Catín, our second grade teacher, felt "joyful … I [now] appreciate more what we have in school; it is a great blessing to so many. The future of these kids depends on our teaching. Being back with my students and seeing their joy encourages me to carry on." Cristhiam Sánchez Escobar (pictured below), our English teacher, said "Thank God we're able to see the joy of the students after those three months without seeing them. Many of the kids hugged us and shared their joy of coming back to school. Thank God we continue to share education, which is a fundamental key in the life of everyone."
"Education is the most important thing for children so that they can have a better future," agreed Isayana Sánchez, the mother of one of our students. "I was worried," confided Doña Socorro, another parent. "I want my son to be who I could not achieve to be – a professional."
We thank you "because of your partnership in the Gospel from thefirst day until now." (Philippians 2:5) We remain hopeful for the future of Nicaragua and its beautiful people. We proceed in that hope, in the certainty of God's grace, and in the power of our joined prayers.
---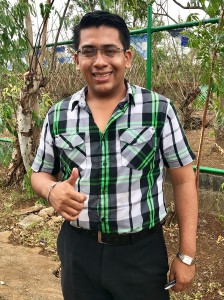 Young people – everywhere in the world – are the future. The mission goes on. Education is the key. Christian values are the foundation.
Your generosity is a blessing to us and, most importantly, to the families, students, teachers and staff of Project Chacocente. Please keep them in your daily prayers, and please support their work with your gifts during our Fall Match Campaign.
All donations, up to $15,000, are now being matched dollar for dollar! Together we can raise $30,000 to help our students and teachers finish strong!
Yours in Christ,
Rev. John Shaver, Co-President
Larry Gage, Co-President