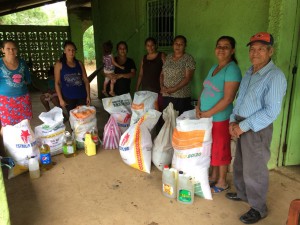 August 4, 2018
Dear Friends of Project Chacocente,
We continue to follow the unrest in Nicaragua through media reports, email exchanges and social media posts of Nicaraguan and North American friends who are there, and frequent Skype conversations and text messaging with Omar Hernandez, our Project Director and Representative in Nicaragua, whom many of you know.
The situation in Nicaragua has "quieted" a bit, but the peace is tenuous and the future remains uncertain. We fear that the crisis is not over. Chacocente Christian School re-opened this week, though for now only Monday through Wednesday, for half-days. Our teachers have reported for work in spite of the obstacles, and 129 students showed up on Monday of the 143 registered; the students were especially eager to return to their studies, Omar told us. We hope soon to resume full day classes Monday through Friday. Teachers and students will continue to use the WhatsApp and the Internet as an instructional aid.
Yesterday, Omar and Juan Carlos distributed rice, beans, cooking oil, sugar and soap to the families of Chacocente and some individuals in the community who remain in great need.
We are grateful for your continued financial support, and for your daily prayers. Both are essential to our mission. If you would like a photo of a specific child or family to pray for, please email us at projectchacocente@gmail.com
"Do not be anxious about anything, but in everything, by prayer and petition, with thanksgiving, present your requests to God. And the peace of God, which passes all understanding, will guard your hearts and your minds in Christ Jesus."   – Philippians 4:6-7
Thanks to all.
In Christ,
Larry Gage & Rev. John Shaver
Co-Presidents, Project Chacocente