CHANGE IN LEADERSHIP AT PROJECT CHACOCENTE
We have been blessed with a stable leadership staff for years and thanks to their devotion, many Nicaraguans now live in hope.
After several months of discussion and review of the advice of business consultants, the board of directors made the decision to eliminate the position of In-Country Director. This became effective in December of 2016. The five remaining leadership staff members are absorbing the responsibilities previously fulfilled by the In-Country Director. Chacocente Christian School is in the capable hands of Jacqueline Hernandez, School Director, and Karen Gomez, Sub-Director. Juan Carlos, as Family Coordinator, oversees the upkeep of the campus including construction projects and addresses the needs of the Chacocente families and the surrounding neighborhood. Omar Hernandez will have an expanded administrative role but will maintain his work with delegations. Our Nicaraguan accountant will continue to monitor our finances and report back to us.
Since graduating, the families are now landowners and are nearly financially independent. While the focus of Chacocente is primarily centered on education, the goal is to help our neighbors living in the neighborhood that surrounds the Project. Many live in very poorly constructed homes and have limited access to water and health care. We ask for your continued support, both in prayer and financially, as we strive to offer a hand to those in need.
We are grateful to Gabriel Godinez for his years of faithful service and his assistance during the period of transition. Please keep him and his family in your prayers.
---
---
 FEBRUARY AND MARCH DELEGATIONS

Teams from Asbury First UMC (Rochester, NY), Genesee Valley District (Western NY), San Dieguito UMC (Encinitas, CA), Troy Christian School (Troy, OH), and Valencia UMC (Valencia, CA) recently visited.
Their work included:
 Construction on the new chapel
 Construction of a new fence between the school
gate and the main gate.
 Repainting the basketball court
 Painting the library
 Painting the kitchen
 Crafts for the kids
---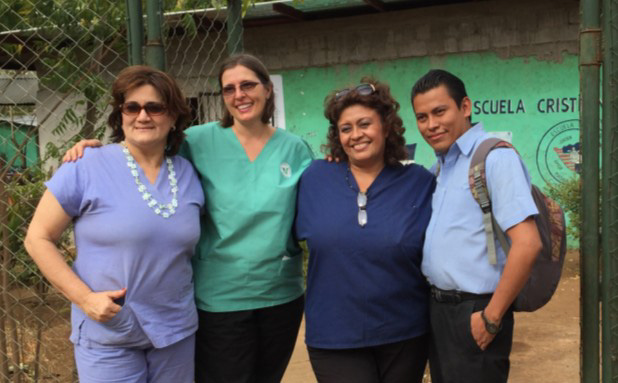 For the third year in a row, Dr. Belinda Forbes, a dentist, and United Methodist missionary coordinated a small medical team to hold a 2-day medical and dental clinic. Patients included Chacocente residents as well as families from the school.
In total, the team had 91 medical consultations and 33 dental consultations. Dr. Forbes shared that she is interested in having "ongoing conversation about how to best address health issues in the Santa Amalia community into the future."
We are grateful for  Dr. Forbes and her team!
---
I GAVE MY SHOES TO DULCE
Nancy Davidow, Asbury First UMC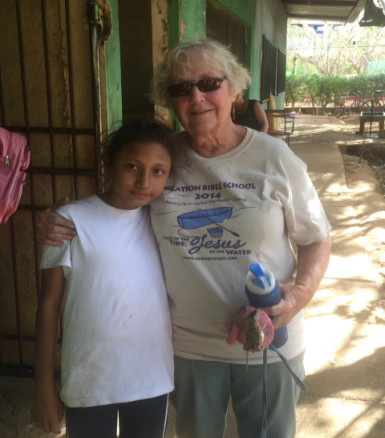 Her eyes smiled at me
and pierced my soul.
She pointed to her shoe,
coming apart at the seam; then to mine she gazed;
and with her smile said, could we make a trade?
Now as we leave Chacocente,
no shoes on my feet,
instead they grace a little girl, so sweet.
I gave my shoes to Dulce.
---
PROJECT CHACOCENTE WISH LIST
We are looking for some special gifts to make things at the Project run a little smoother. If you would like to  donate to any of the following items, please make a check payable to Project Chacocente, clearly mark it for the item you would like to donate to, and mail your  payment to:
Project Chacocente
PO Box 128
Lexington, MA 02420
Desktop computers for Juan Carlos & Omar, $495 each
Chairs for the new chapel, $300
Tractor Rental, $300
---
ADVANCED EDUCATION SCHOLARSHIPS
As the Chacocente children get older and near high school graduation, many of them are choosing to continue their education so that their future might continue to be full of hope. For more information about  sponsoring either of these young ladies, please contact projectchacocente@gmail.com
---
Thank you for supporting Project Chacocente.  Your prayers, donations, time, and work to share the story are making a difference, and we appreciate you! Your help is vital to continuing the work at Project Chacocente. Visit our website www.outofthedump.org for details about the various ways to sponsor and support the Project.  Donations may be mailed to: Project Chacocente, PO Box 128, Lexington, MA  02420