Dear Friends of Project Chacocente:
Thank you so much for your continuing support of Project Chacocente! Your support is truly making a difference in the WHOLE lives of the children, the families of Project Chacocente, and the families in the surrounding communities. People in Nicaragua are beginning to refer to the project and the surrounding area as Chacocente!
One of the things the Chacocente Christian School has that is not common in Nicaragua is a lending library. In addition to providing books for the students to read outside of class, the librarian conducts classes for students of all grade levels. Our librarian is José Ramón Putoy López. He is studying Social Sciences and Philosophy and likes to read and listen to music. His hope, as a teacher, is to continue growing professionally in order to help the students learn and thus become successful professionals themselves in the future.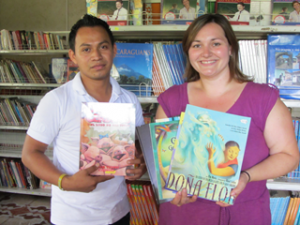 With Ashley DuBois in the school library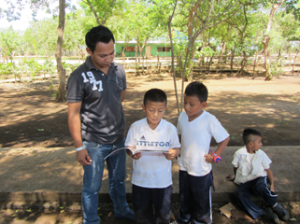 Listening to students read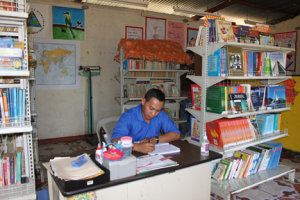 Ramon at work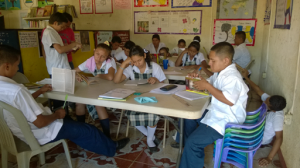 Kids at work reading
The Nicaragua Ministry of Education mandates that each high school class read and study a particular book. This means that multiple copies of the books are needed. If you are interested in helping to provide these books and others for the library, you may make a donation to Project Chacocente and label it "books for the school."
Sponsor a child at the Chacocente Christian School
Urgent! Sponsors are needed to provide the necessary funds to run the school. If you or someone you know might be interested in sponsoring a child for $360 a year, have him or her contact us at helpchildoutofthedump@hotmail.com. or call Mary Beth at 585-265-0097.
Sponsor a Teacher
We are very proud of the devotion and expertise of all of our teachers. Aiming to provide academic opportunities far above those available at state-run schools, we hire only qualified, capable Christian teachers. We recognize that most teachers in Nicaragua are grossly underpaid (often earning less than sweat shop workers), and we are committed to fairly compensating our employees.
We're hoping you will help us! Please consider sponsoring a teacher! Your $400 monthly sponsorship will better the lives of not only the teacher but also the lives of his or her students. Join together with friends and churches to truly make a lasting effect.
Continuing Education Scholarships
Several young people and adults at Project Chacocente are also interested in expanding their education, especially in studying English, and we want to help them! Education will increase their self-esteem and job marketability. Can you help?
Partial scholarships, as well as full scholarships, are greatly appreciated. If interested please email projectchacocente@gmail.com or call Robyn at 585-752-9070.
For more information and further updates, visit the Project Chacocente website, www.outofthedump.org or "Like" our Facebook Page (not Group) at Friends of Project Chacocente.
Thank you for your continued interest in and support of Project Chacocente. Remember to always label any donations with the child's name and payment period on the memo line for sponsorships or what the donation is to be used for. For example, the general budget or teacher salaries. Or you may wish to include a note explaining your donation.
Project Chacocente USA is a 501 (c) (3) tax exempt organization. Donations may be sent to Project Chacocente, USA, P.O. Box 128, Lexington, Massachusetts, 02420. If you are making payments through PayPal, note that PayPal charges a fee for using their service. If you are able, please add 2½% to your donation to cover this fee.
¡Qué Dios les bendiga!
May God bless you!